I've put together a list of some of my favorite gourmet-culinary products, which I will be adding to it from time to time. If you love to cook, eat, or give food or kitchen items as gifts, you will love the recommendations below.
My philosophy about food is to eat smart – That means eating food that's "clean" and not full of junk.  I love to eat but it's important to eat food that's "real" and avoid products that are packaged, processed and chemically enhanced. Even many health foods are actually junk food. View my recipes here.
I also created a food pyramid for Baby Boomer foodies who want to stay well, live long, and enjoy eating. I promise you won't feel deprived.
Most of the products below share my "eat smart" philosophy and some are just for fun. Part of having a long, healthy life is to enjoy it and not feel deprived, right?
It's fun to send indulgent gifts like wine, chocolate, and other treats to loved ones and colleagues. You'll find some of my favorite online foodie services to send gifts for the holidays, special occasions or just to say thank you to people you appreciate.
The links below are affiliate links, which means I have partnered with these companies. If you click on a link and make a purchase I will receive a small commission (like a few cents) All of these sites are safe and I only promote brands I truly believe in. This helps to support this site's maintenance and fees and I thank you in advance. You can read my privacy and cookie policy here.
For more smart eating tips visit my Eat Smart, Feel Good, Live Longer Food Pyramid by clicking here.
Cooking – Great ideas for Thanksgiving too
Martha & Marley Spoon will send the recipes of your choice and the fresh, pre-portioned ingredients you need to cook them directly to your door, so you can enjoy something new and delicious any night of the week. With over 18,000 recipes from the Martha Stewart archives to draw from, menus feature carefully tested dishes that range from classic to creative. Choose from 10 recipes every week, pick your preferred delivery day, and skip any weeks that don't work for you. Whether it's grass-fed beef, artisanal vinegar, or seasonal produce, Martha & Marley Spoon works directly with the finest purveyors to deliver the best to your door.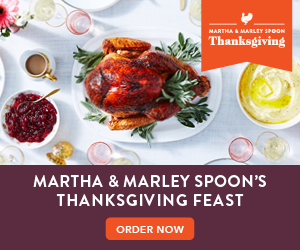 Superfoods and food items for better health and longevity
The Maca Team -sells products directly from Peru. Get the highest quality Maca root powder from a family-run company who cares. Organic, free trade, non-GMO. Maca root products from Peru. Maca will help improve your hormonal, physical and emotional state each and every day.
Vital Choice – Wild organic seafood delivered straight to your door. Wild seafood, particularly salmon is an excellent source of Omega 3 fatty acids. If you do not live near the ocean and want high-quality seafood, this site is awesome.
Relaxing Teas
Art of Tea – Tea contains numerous antioxidants and other health benefits. Art of Tea is a Los Angeles-based organic tea company with a wide variety of teas and gifts available online. Their tea blends are outstanding and it's a perfect site to order gifts because they come packaged beautifully. Enjoy the health benefits of organic tea.

Coffee
Sudden Coffee – This "instant" coffee is crystallized and is better than Starbucks. Recommended by the New York Times, Fast Company, Food and Wine, Kitchen, and Epicurious. It comes in a little vial that you mix with hot water. 100% Arabic, single origin beans. It tastes fresh because it's freeze-dried. Try it, you'll like it.


JavaPresse – Enjoy an organic coffee of the month club as well as unique coffee accessories and equipment. French Press, Pour over and Burr Grinder. Each coffee selection is sourced from small-batch growers. The coffee is shipped within 2 hours of roasting to keep it extra fresh.
Gotta Have Wine
Wine Awesomeness – Receive a monthly shipment of wines from all over the world picked by experts that are affordable. I've been enjoying my monthly box and I love that I'm always surprised by the amazing wines I've tasted. Every shipment has a specific theme with recipes to match. One month it was pizza and wines and another it was tacos and wine. How fun is that?
Home Meal Deliveries
Farm Fresh to You – For the past several years, I've been receiving a box of produce from local farms delivered to my doorstep and I am hooked.  My box contains organically grown fruits and vegetables that are fresh and in perfect condition. I can customize my box each time and there is a selection of other culinary treats like balsamic vinegar, olive oil, nuts, honey and other gourmet farm products that I can add to my order.
Home Chef – This company puts together healthy meal kits that you assemble and cook them yourself. You choose 15 of your favorite fresh recipes from their list. Some features steak, chicken, pork, fish, vegetarian and other choices. Then, they will send you a box or pre-portioned ingredients with recipe cards that correspond. Each meal is packed in ice and ready to stick in your freezer until you are ready. You receive a new box each week. Ingredients are fresh and sourced from trusted suppliers and meals take approximately 30 minutes from start to finish.
Home Bistro – If you aren't into cooking but still want to eat balanced smart eating fresh meals in appropriate portions, check out this wonderful delivery service. Meals are healthy and are the perfect combination for those of us over 50 looking to maintain a healthy weight.
Balance by Bistro MD – Are you on a special diet but don't have time to shop and cook?  Balance by Bistro MD will help you eat to stay healthy, lose weight, and help those on gluten-free, low sodium, or diabetic diets that are physician approved. It is a perfect option for elderly parents who need assistance with meals as well.
Factor 75 – 75 healthy meals sent to your home or office. Organic, non-GMO. Choices include Paleo, Keto, and Dairy Free. Grass-fed and pastured meats, no antibiotics or hormones, gluten, soy, sugar, and artificial sweetener free. Prices depend on how many meals you would like delivered per week. 


Gourmet Gift Baskets to give as gifts
Hale Groves – offers beautiful citrus fruits and baskets from Florida's Indian River region. They offer gift baskets for the holidays and special occasions, gourmet gifts, and monthly fruit deliveries.
Monthly Clubs -Another fun company for gift-giving. You can choose from Wine, chocolate and even cigars collections delivered monthly.
ZChocolat.com – Chocolate is important. Right? This company is French and offers beautiful luxury chocolate gifts and gift baskets. zChocolat chocolates are 100% Made in France and are created and produced in the city of Troyes located in the Champagne region by World Champion Chocolatier  Pascal Caffet, World Champion Chocolatier. These chocolates are truly the most delicious gifts you can present to that special person on their special day. Each piece is made in the French tradition – high cocoa content, low sugar and 100% pure cocoa butter. What could be better? Now available – Vegan chocolate.
Check out Lobster Gram – How fun is that? Since 1987, Lobster Gram has delivered live Maine lobster, lobster tails, shrimp, chowders, melt in your mouth steaks, desserts and more. Lobster Gram makes an unforgettable gift and includes complete cooking instructions. We offer many gifting options including beautiful gift buckets, personalized gift cards, and E-certificates to allow recipients to conveniently choose the date and location of their package or gift certificate delivery.
DI Bruno Gourmet Cheeses & Meats – From cured meats to stinky (but delicious) cheese, Di Bruno Bros. has an array of culinary gifts and club memberships. Coffee, sweets, oils, vinegar, cocktail supplies and more. Bacon lovers will love their Things to do with Bacon.
More gourmet-culinary products coming soon.
More Shopping
Shopping Deals | Travel | Beauty | Clothing | Culinary | Financial | Health | Entertainment | Books
  Tech | Self-Discovery | Home Goods | My Amazon