I love to travel and do it as often as I can. In fact, I'm ready to take off at a moment's notice. Now that my kids are out of the house, it's much easier. But Baby Boomer travel can be challenging, especially when you're lugging things through airports, train and bus stations. It's a workout but so good for your body and soul. Below, I list the best travel products and accessories for Baby Boomers that I have found so far.
Some of the links below are affiliate links, which means I have partnered with these companies. If you click on a link and make a purchase I will receive a small commission (like a few cents) All of these sites are safe and I only promote brands I truly believe in. This helps to support this site's maintenance and fees and I thank you in advance. You can read my privacy and cookie policy here.
Best travel products for Baby Boomers
My favorite place to travel is in Europe. I'm obsessed with it and there's nothing better than a European river cruise. River cruise ships are smaller and more intimate than huge cruise ships. (although I love those too) It's so fun to be dropped off for the day in quaint little towns so you can meet the people and experience their culture. Then, you're back on board for dinner and a relaxing float down rivers strewn with castles and other beautiful sites.
I also love traveling throughout the U.S., Mexico, Canada, and well, just about anywhere including my hometown of Los Angeles. There are exciting things to see and do.
I've also written a post on how to travel light:   A Baby Boomer's Guide to Travel Light and Nifty Over 50.
Senior Discounts – (we may not like being called seniors, but the discounts are awesome! Affinity Groups, like, AAA, Senior's Coalition, AARP, Veterans Organizations, Alumni Groups, etc. offer tremendous saving opportunities for seniors. People traveling as a member of an affinity group enjoy terrific discounts. So, if you're not part of any affinity group, think about joining one.
Airport services
CLEAR – Move to the head of the line at the airport.  This even beats TSA-pre.  Watch this video to see how it works. All you have to do is sign up for an Annual Membership. No lines and no ID.
Booking sites for flights and hotels
Agoda.com is excellent for booking hotels, especially in South East Asia. It's based in Singapore. If you're traveling to an Asian destination, you can't beat it for best hotel deals and vacation rentals.  You can also find good prices for travel in Europe, Australia, and the Middle East.
Booking.com – The premier site for booking everything from flights, hotels, car rentals, vacation rentals, restaurants and more. They service over 1,000,000 properties all over the world.
Expedia – This site does it all –  affordable flights, hotels, cars, vacation rentals, cruises, bundle deals and more – It's one of the most trusted sites online.
Expedia subsidiaries: The company owns several other booking aggregators. They all offer similar services and you will probably find almost the same prices for flights, hotels, etc. It's always good to check, though, as they often feature their own special deals.

Hotwire – You can save up to 60% when you book 4-star-PLUS hotels using Hotwire all over the world.  It's also a great site to book flights, cars, and to create your own vacation packages.
Travelocity! – Home of the travel gnome. The Amazing Race uses Travelocity to book trips for its contestants all over the world. Find flights, hotel rooms, cruises, car rentals and activities at competitive rates.
Orbitz –  You can earn Orbucks on flights, hotels and more.

Trip Advisor – Before you go anywhere click Trip Advisor to find reader reviews on hotels, restaurants, and activities. I never go anywhere without consulting it. And now, you can also book hotel reservations. You'll find amazing ideas and tips for activities, restaurants, tours, and more all over the world.
Just Flights
Cruising
Cruise Direct – Cruise Direct has incredible discounts on cruises all over the world. Cruise lines include Carnival, Celebrity, Costa Cruises, Cunard, Disney, Holland America, MSC, Norwegian, Princess, and Royal Caribbean.  You can even book last minute cruises at the best prices. 
MSC Cruises  – Book your cruise on their website and find an incredible deal! – MSC offers all the quality and comfort of a 5-star hotel, and much more, offering great cruise deals.
Here are just some of the highlights that set MSC Cruises apart:
Elegant, modern cruise ships with comfortable, well-equipped staterooms
Expertise and experience on the sea: discover the world with the Masters of the Sea
Wide choice of restaurants serving high-quality cuisine prepared with fresh ingredients, as well as partnerships with market leaders like Eataly
Broadway-style entertainment in stylish theaters seating up to 1,600 people
Friendly, well-trained personnel dedicated to providing the highest levels of service
A special focus on families, with family staterooms, kids' entertainment programs, and kids under 12 cruising for free when sharing a stateroom with two adults (only taxes and port dues, flights and transfers (where applicable applies) *
Lavish onboard spa offering a wide variety of relaxation and treatments
Earn Points
Points.com – It gets frustrating when you join a bunch of programs to earn travel points and then have to keep track of each one. Points.com make it possible for you to have one place and one password for all your programs. Your points are automatically updated and can be viewed on one dashboard.  Trade and exchange your points or buy and gift miles.
Hotels and Vacation Rentals
Great restaurant deals
Restaurants.com – This site serves 62,000 restaurants and providers all over the United States. Find discounts, deals, and coupons for your favorite dining spots or give someone the gift of a night out on the town.
Planes, trains, buses, and cars
Tours and Fun Things to Do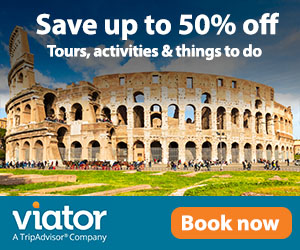 Travel insurance – make sure you get it before you travel
Allianz Travel Insurance – It's critically important to protect yourself when you travel with coverage for emergency medical, baggage, travel delay and much more. Allianz offers special rates for those who are 55 and older. Don't even think about taking a trip without travel insurance.  Click here to compare.
Travelex Travel Insurance – Another great company that provides travel and trip insurance. Travelex makes it their priority to ensure you have the best vacation possible. Children under 21 are insured at no additional cost and they provide coverage for emergency medical evacuations. Other products include expedited passport services and international driving permits.
Best travel accessories – luggage and more
Ebags – Top brand luggage, purses, travel supplies, and backpacks at affordable prices. They have a huge selection of travel-related products at the best prices I've found.
Zappos Travel Page – This is new! Zappos now has a page dedicated to travel-friendly clothing, shoes, accessories and more.
Check out my Amazon Recommendations – I've added travel gear as well as other favorite products that I personally use and enjoy!
Travel Books
Lonely Planet – For the ultimate in guidebooks, coffee table books, eBooks, maps, phrasebooks, maps, magazines and how-to's visit Lonely Planet.  You will find over 500 inspirational and trusted books as well as award-winning digital products.
For more travel tips and recommendations, click here.
More Shopping
Shopping Deals | Travel | Beauty | Clothing | Culinary | Financial | Health | Entertainment | Books
  Tech | Self-Discovery | Home Goods | My Amazon